Lateral Rotation Mattress | Lateral Turning, Low Air Loss, and Alternating Pressure Mattress - 36 Inch Width / 350 Pound Limit
Regular price
$11,500.00
Sale price
$4,499.00
Unit price
per
Sale
Sold out
Testimonials

"Great company to work with. They really do care and stand by their products."

"Simple and easy to order. Great deal on top quality mattress"

"I have had about 3 mattresses before that did not help This is the last one I will need. It is very effective."

"I appreciate the super fast shipping and easy set up video"

"Called and asked representative questions. They recommended the perfect product."

"We purchase all our mattresses from Wound Care Mattress and are very happy with the products and service."

"The auto sensing feature makes theis product second to none in terms of quality."

"Had a fantastic experience with this company and my mom has had better sleep and less sores than she has had in years."

"I do not normally write reviews but let just say the service and quality are worth commenting on. Glad I spend the extra money to get something of top quality."
Share
Discover the ultimate solution for bedridden patients with our Professional Care Bi-lateral Rotation, Low Air Lo...
 (Mattress Only - Bed not included)
*Order fast - only 3 left in-stock before next shipment.
Lateral Rotation, Low Air Loss, and Alternating Pressure Mattress
Solution for Bedridden Patients and Bed Sores
Designed for Superior Comfort and Care
Our Professional Care Lateral Rotation, Low Air Loss, and Alternating Pressure Mattress is the top-of-the-line solution for patients who are bedridden. With its advanced features and exceptional comfort, this mattress is highly regarded by customers that are bed bound for extended periods.  Our lateral turning, patient rotating mattress make the patient more comfortable and caregivers life much easier by automatically turning patient side to side on selected intervals. 
Superior Patient Rotation Comfort and Support
Pain Relief - The mattress provides effective relief for pressure pain, ensuring that patients experience maximum comfort even during long periods of immobility.  Low air loss and alternating therapy is the most popular mattress for bed sores and this mattress does both. 
Enhanced Circulation - Designed to promote improved circulation, this mattress helps prevent pressure ulcers and encourages faster healing for existing ulcers up to stage 4.  By rotating patient side to side it provides both comfort and quality treatment for the patient. 
Innovative 3-in-1 Therapy
Lateral Rotation Therapy
Facilitating ease for caregivers, the mattress features 30° of lateral turning therapy to turn patient side to side.  This innovative technology enhances pressure relief by cyclically changing pressure points, reducing the risk of pulmonary complications and stimulating the gastrointestinal tract.
Alternating Pressure for Pressure Relief
The mattress utilizes alternating pressure technology to constantly change pressure points, promoting circulation and preventing the formation of pressure ulcers. This groundbreaking feature ensures optimal comfort and care for bedridden patients.
Continuous Low Air Loss Therapy
Treat bedsores and pressure ulcers with our best selling low air loss mattress. The low air loss feature creates a floating effect, reducing moisture and maintaining constant skin interface pressure. This not only enhances comfort but also helps prevent the development of pressure ulcers.
Essential Features for Optimal Care
Quiet Pump for Peaceful Experience
The mattress is equipped with a quiet air pump, allowing patients to rest undisturbed. This feature provides a peaceful experience that patients truly appreciate.
Safety and Support
Patient Side Bolsters - The mattress includes side bolsters to ensure patient safety. They prevent patients from falling out of bed and provide support for their arms during lateral turning therapy. The side bolsters also protect patients from pressing against the side railing and sliding off the mattress.
Heel Relief Function - With the heel relief function, a single air cell deflates to float the vulnerable heels, providing zero pressure. This feature is crucial for patients at risk of heel pressure ulcers.
Seat Inflation - The mattress offers extra support in the sacral area during a sitting position, ensuring optimal comfort and reducing the risk of pressure ulcers.
This mattress is easy to set up.  If you need set up you can select the option and one of our trained technicians will be happy to come and install it for you. 
Experience Unparalleled Comfort: Professional Care Bi-lateral Rotation, Low Air Loss, and Alternating Pressure Mattress
Enhance Circulation and Prevent Pressure Ulcers: Innovative 3-in-1 Therapy
Advanced Features for Optimal Comfort and Support: Professional Care Bi-lateral Rotation, Low Air Loss, and Alternating Pressure Mattress
The Perfect Combination: Comfort, Care, and Convenience
Transform the Bedridden Experience: Professional Care Bi-lateral Rotation, Low Air Loss, and Alternating Pressure Mattress
This mattress is very easy to set up and use.
Need both delivery and set up?  Nationwide complete set up is now available.  Select the option to get a professional to your home to set up and show you how to use.  Once you receive your mattress you will automatically get a call from a tech in your area to come to your home and install mattress.
Lateral Rotation Air Mattresses benefit many patient types:
Lateral turn air mattresses cater to a wide range of patients, each with specific healthcare needs. Let's explore some of the prominent patient categories that can benefit from this advanced bedding solution:
Old-age related mobility
As individuals age, mobility naturally diminishes, making them prone to pressure ulcers and other complications. Lateral turn mattresses offer a supportive and repositioning mechanism that helps elderly patients maintain comfort and prevent the development of bedsores. By gently turning the patient, these mattresses alleviate constant pressure on localized areas and enhance blood circulation, thereby reducing the risk of skin breakdown.
Stroke victims
Stroke patients often experience partial paralysis or weakness on one side of the body, limiting their ability to reposition themselves independently. Lateral turn mattresses prove to be a valuable tool in their recovery journey. By automatically shifting the patient's position, these mattresses alleviate pressure on the affected side, prevent muscle contractures, and enhance blood flow to the paralyzed areas, promoting healing and minimizing the risk of secondary complications.
Injury to the spinal cord
Patients with spinal cord injuries often face significant mobility challenges and are at a higher risk of developing pressure ulcers. Lateral turn mattresses offer a supportive solution by redistributing pressure and promoting regular repositioning. By tilting the patient gently from side to side, these mattresses alleviate pressure on the affected areas, minimize the risk of skin breakdown, and enhance circulation, contributing to a more comfortable recovery process.
Rheumatic Arthritis
Patients with rheumatic arthritis often experience joint inflammation, pain, and stiffness. These symptoms can be exacerbated by extended periods of immobility. Lateral turn mattresses provide a beneficial solution by continuously redistributing pressure and maintaining joint mobility. The gentle movement facilitated by these mattresses helps to alleviate stiffness, reduce pain, and improve blood circulation, ultimately enhancing the overall comfort and well-being of patients with rheumatic arthritis.
Unconscious patients
Patients in an unconscious state, such as those under deep sedation or in a medically induced coma, are unable to reposition themselves, increasing the risk of pressure ulcers and other complications. Lateral turn mattresses play a crucial role in their care by automating the turning process, thereby addressing the issue of immobility. By periodically shifting the patient's position, these specialized mattresses reduce pressure on vulnerable areas and promote blood circulation, providing optimal comfort and minimizing the occurrence of pressure sores.
Dystrophy of the muscles
Muscular dystrophy is a group of genetic disorders that progressively weaken and deteriorate the muscles. Individuals with muscular dystrophy often face challenges with mobility and are highly susceptible to pressure ulcers. Lateral turn mattresses offer a supportive solution by alleviating pressure on localized areas and ensuring regular repositioning. The gentle tilting motion provided by these mattresses reduces pressure points, improves blood flow, and contributes to the prevention of secondary complications.
Sclerosis multiplex
Sclerosis multiplex, commonly known as multiple sclerosis, is a chronic autoimmune disease that affects the central nervous system. Patients with multiple sclerosis often experience muscle weakness, coordination difficulties, and decreased mobility. Lateral turn mattresses prove to be an invaluable asset in their care by providing consistent repositioning and pressure redistribution. The dynamic movement offered by these mattresses promotes muscle stimulation, prevents stiffness, and enhances blood circulation, contributing to the overall comfort and well-being of multiple sclerosis patients.
ALS (Amyotrophic Lateral Sclerosis)
ALS, also referred to as Lou Gehrig's disease, is a progressive neurodegenerative disorder that leads to muscle weakness and atrophy. Patients with ALS often require extensive assistance with positioning to prevent the development of pressure ulcers and maintain optimal blood flow. Lateral turn mattresses diligently address these concerns by gently shifting the patient's position, relieving pressure on vulnerable areas, and promoting circulation. By ensuring consistent repositioning, these mattresses play a vital role in improving the comfort and quality of life for individuals living with ALS.
Lateral-turn air mattresses have revolutionized patient care, providing essential assistive technology that benefits various patient populations. With their ability to automatically reposition patients and redistribute pressure, these mattresses greatly reduce the risk of pressure ulcers and promote overall comfort and well-being. Whether it's catering to the needs of the elderly, stroke victims, spinal cord injury patients, individuals with rheumatic arthritis, unconscious patients, those with muscular dystrophy, sclerosis multiplex, or ALS, lateral turn air mattresses undoubtedly contribute to enhanced patient care and improved outcomes.
* We do recommend a hospital bed for this mattress in order to take advantage of all the features.  If you are in need of a hospital bed click HERE.

Pro-care Turn Brochure (DOWNLOAD)
Heel Relief Function Single air-cell deflation floats the vulnerable heels with no pressure.
4-Way Stretch Cover 

Want to see how easy it is to set up and operate? 
To View the Bi-Lateral Turn Operational Video
 - 
Click Here
 Order online or call a mattress expert today!
EXTENDED WARRANTY
Mattress - 2 Years
Motor- 2 Years
Cover - 1 Year
TECHNICAL SPECIFICATIONS:
Model
          WCM-7702
Pump
Dimension
15.8 x 38 x 26.8 cm
Weight
6 Kg
Case Material
Flame retardant ABS
Supply Voltage

Supply Voltage: 120V / 60 Hz

Operating Cycle
Dwell Time 5, 30, 60 mins
Air Output (Lpm)
Maximum airflow 1,300 liter/min
Mattress
Mattress type
8"+2" Replacement
Dimension
80"L x 36"W x (H8")
Cell Height
20 x 8" ; 2 x 10" (side bolster)
Weight
10.1 kg
Cover Material
Silver+

 

4-Way Stretch
Cell Material
Nylon / PU
Maximum Patient 
395 lbs
Flame Retardant 
EN 597-1 & EN 597-2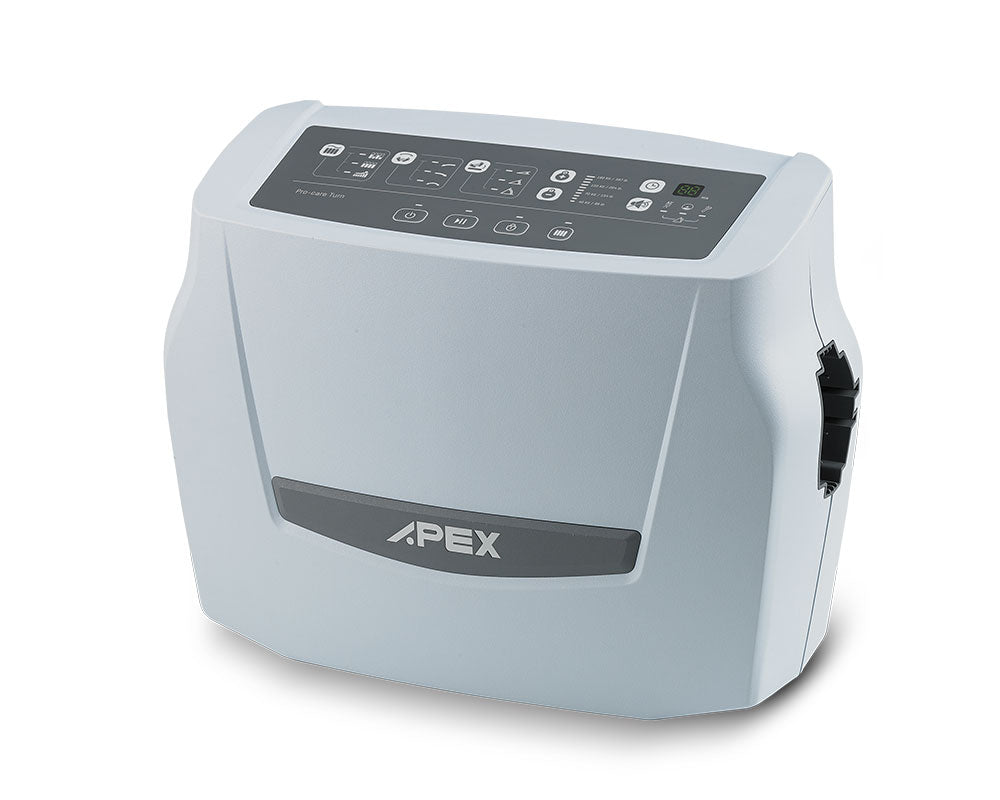 Leading USA Mattress Supplier
- Free fast shipping
- USA based advice and support
- One stop shopping
- Have questions?
Call us now at (888) 828-6017
Free Shipping

We provide free shipping on all orders. The shipping is on us.

Hassle-Free Exchanges

If you are not 100% satisfied with our products you are able to return or exchange them.

Support Included

We back up our products with a full two year warranty. The quality of our products are second to none.