Elite Low Air Loss and Alternating Pressure Relief Mattress for Bed Sores - 36" 42" 48" width
WCM-501
Regular price
$3,750.00
Sale price
$1,900.00
Unit price
per
Sale
Sold out
Testimonials

"Great company to work with. They really do care and stand by their products."

"Simple and easy to order. Great deal on top quality mattress"

"I have had about 3 mattresses before that did not help This is the last one I will need. It is very effective."

"I appreciate the super fast shipping and easy set up video"

"Called and asked representative questions. They recommended the perfect product."

"We purchase all our mattresses from Wound Care Mattress and are very happy with the products and service."

"The auto sensing feature makes theis product second to none in terms of quality."

"Had a fantastic experience with this company and my mom has had better sleep and less sores than she has had in years."

"I do not normally write reviews but let just say the service and quality are worth commenting on. Glad I spend the extra money to get something of top quality."
Share
(Mattress Only - Bed not included)

(Best Seller) Low Air Loss and Alternating Pressure Mattress
Back in-stock.  Back by popular demand we have secured new inventory on our best selling low air loss mattress.  We ship our products daily Monday to Friday.  
Experience ultimate comfort and safety with our top-selling Low Air Loss Mattress.  Combining low air loss and alternating pressure provides the best therapy for bed sores and pressure ulcers.  Designed specifically for patients in need of superior therapeutic support, this mattress offers a range of features to ensure unmatched comfort and a secure environment.
Superior Air Loss Technology for Ultimate Comfort
5 Therapy Modes: Max Firm, Alternating Mode, Continuous Low Pressure (CLP), Seat Inflation with Alternating/CLP, and Seat Inflation
Our Premium Series Low Air Loss Mattress boasts five therapy modes that can be customized to meet the specific needs of each patient. With options such as Max Firm, Alternating Mode, Continuous Low Pressure (CLP), and Seat Inflation with Alternating/CLP, this mattress provides optimal comfort and support. Whether the patient requires a firm surface or the gentle relief of alternating pressure, our mattress has it covered.
Ventilated and Low Air Loss Technology
Promoting healing conditions is crucial when caring for patients, and our mattress excels in this area. With ventilated and low air loss technology, it enhances airflow and moisture-wicking properties, ensuring a dry and comfortable environment. This feature not only improves patient comfort but also aids in preventing pressure sores and maintaining optimal skin health.
CPR Valve
During emergencies, time is of the essence. Our Premium Series Low Air Loss Mattress includes a CPR Valve that allows for quick deflation. With immediate access to the patient, caregivers can respond swiftly, potentially saving valuable seconds that can make a difference in critical situations.
Alternating Pressure and Cell-on-Cell Bladder
Safety is paramount when it comes to patient care. Our mattress is equipped with a cell-on-cell bladder, which adds an extra layer of protection by preventing bottoming out. Even during power failures or system malfunctions, this feature ensures that the patient remains secure and comfortable.
Cable Management
Creating a safe and organized environment is essential for efficient patient care. Our mattress incorporates cable management, which securely manages cords and cables. Say goodbye to tangled wires and potential hazards, as this feature guarantees a neat and hazard-free space.
Unmatched Durability and Hygiene for Bed Sores
Quilted Cover
The comfort of our patients is always a priority. Our mattress features a quilted cover, providing an added layer of comfort. The soft and plush quilted surface adds a luxurious touch while maintaining the therapeutic benefits of the mattress.
Vapor Permeable and Flame-Retardant
Hygiene and safety are non-negotiable in healthcare settings. Our mattress's cover is vapor permeable, allowing for airflow and preventing moisture buildup. Rest easy knowing that it meets flame-retardant requirements, enhancing safety measures for both patients and caregivers.
Water-Resistant
We understand the importance of maintaining a clean and hygienic environment. That's why our Premium Series Low Air Loss Mattress is water-resistant. Accidental spills or accidents are no match for the mattress's protective barrier, ensuring cleanliness and preventing bacterial growth.
Customizable and Versatile Design
Quilted Cover
The comfort of our patients is always a priority. Our mattress features a quilted cover, providing an added layer of comfort. The soft and plush quilted surface adds a luxurious touch while maintaining the therapeutic benefits of the mattress.
Side Bolster (Option)
Enhancing patient safety is our primary goal. For patients requiring additional support, our mattress offers a side bolster option. This feature adds extra protection and increases patient confidence, especially for those who may be prone to rolling or falling off the mattress.
Compact and Lightweight Pump
When it comes to convenience, our mattress system delivers. The compact and lightweight pump is designed for easy handling and transportation. Caregivers can navigate through tight spaces with ease, ensuring comfort for both the patient and themselves.
Selectable Operating Cycle
Every patient has unique requirements, which is why our mattress system offers a selectable operating cycle. Tailor the system to meet the patient's specific needs, with options ranging from 10 to 25 minutes. Find the perfect balance between therapy and comfort, promoting a faster recovery and overall well-being.
This mattress is very easy to set up and use.
Need both delivery and set up?  A nationwide complete setup is now available.  Select the option to get a professional to your home to set up and show you how to use it.  Once you receive your mattress you will automatically get a call from a tech in your area to come to your home and install the mattress. 
Order online or call a Wound Care Mattress Expert for advice.
Warranty

2-year guarantee on mattress and pump.
1-year cover
 Want to learn more about our Mattresses?   Check out the below guide: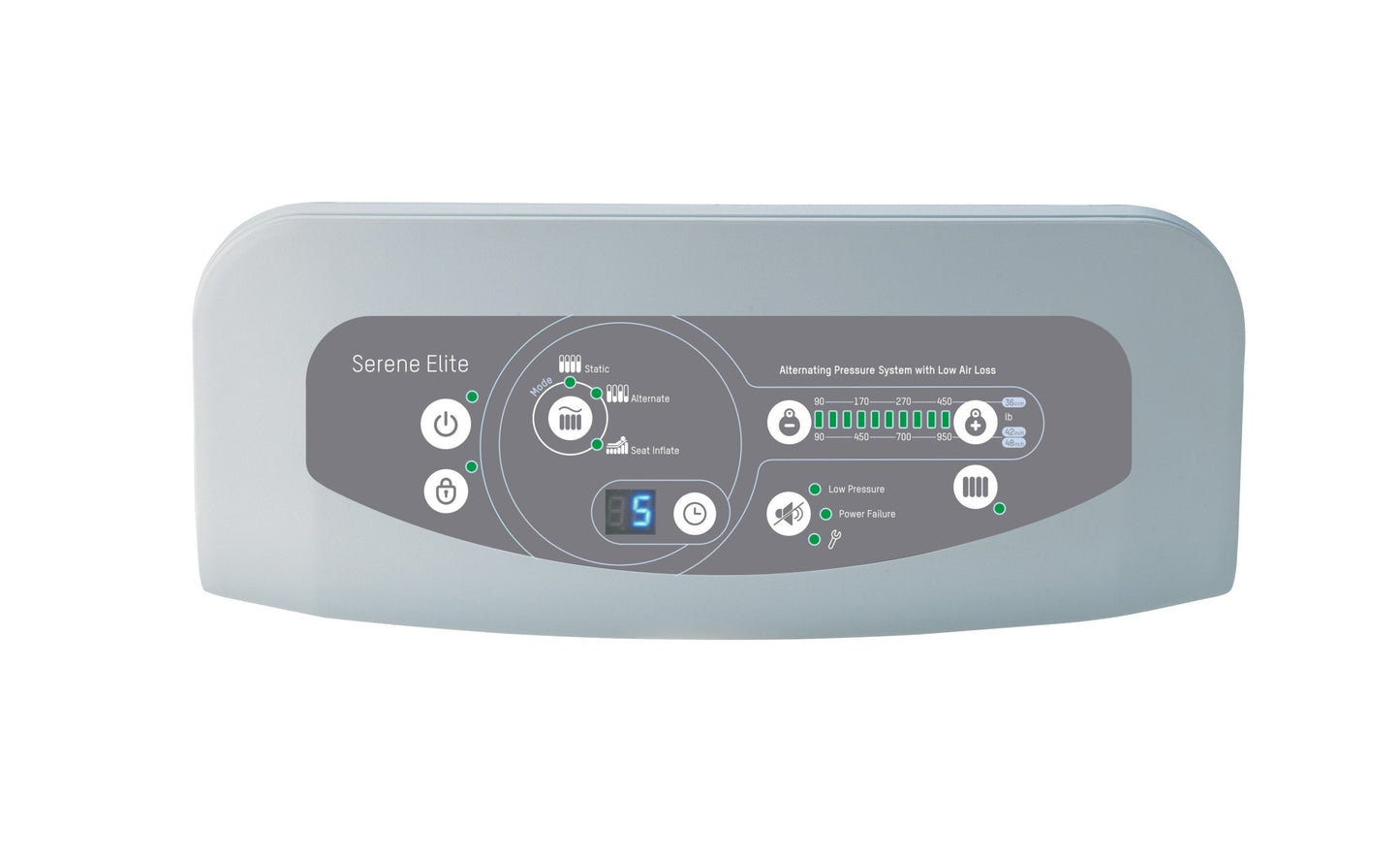 Leading USA Supplier
- Free fast shipping
- USA based support
- One stop mattress stop
Have questions?
Call us now at (888) 828-6017
Free Shipping

We offer free shipping on all products

Hassle-Free Exchanges

If you are not 100% satisfied with our products you are able to return or exchange them.

Support Included

We back up our products with a full warranty. The quality of our products are second to none.