Wound Care Mattress Multi-Therapy Low Air loss, Alternating Pressure & Pulsation Mattress - 36" 42" 48" Width / 600 to 1000 lb weight limit
WCM-M36Q
Regular price
$3,999.00
Sale price
$3,300.00
Unit price
per
Sale
Sold out
Testimonials

"Great company to work with. They really do care and stand by their products."

"Simple and easy to order. Great deal on top quality mattress"

"I have had about 3 mattresses before that did not help This is the last one I will need. It is very effective."

"I appreciate the super fast shipping and easy set up video"

"Called and asked representative questions. They recommended the perfect product."

"We purchase all our mattresses from Wound Care Mattress and are very happy with the products and service."

"The auto sensing feature makes theis product second to none in terms of quality."

"Had a fantastic experience with this company and my mom has had better sleep and less sores than she has had in years."

"I do not normally write reviews but let just say the service and quality are worth commenting on. Glad I spend the extra money to get something of top quality."
Share
Rhythm Multi | Low Air Loss, Alternating Pressure, and Pulsation Mattress
Unbeatable Protection Against Pressure Ulcers
Advanced Pressure Ulcer Prevention
Make every moment count in the battle against pressure ulcers with Rhythm Multi. Designed for patients who are at medium to high-risk of developing pressure ulcers, this innovative system employs a multi-faceted approach to prevention.
Alternating Pressure, Low Air Loss, Pulsation Therapy:
Alternating pressure technology ensures continuous and even distribution of weight, reducing the risk of pressure ulcers.
Low air loss therapy maintains an optimal microclimate by reducing heat and moisture build-up, keeping the skin dry and cool.
Pulsation therapy enhances blood circulation, promoting tissue oxygenation and speeding up the healing process.
Unmatched Comfort and Personalization
The Epitome of Comfort
Discover the epitome of comfort and personalized support with Rhythm Multi. Engineered to provide the utmost comfort while addressing the individual needs of patients, this system offers a range of unique features.
Happy Heel:
Precise dial softness control at the foot section ensures maximum comfort and effectively prevents heel pressure ulcers.
Auto Firm:
Provides an immediate firm surface, facilitating safer patient transfers while maintaining stable support throughout.
10 Digital Comfort Settings:
Patients can easily find their ideal level of support with 10 digital comfort settings, tailoring the system to their specific needs.
Unwavering Safety and Durability
Peace of Mind and Longevity
Rest easy knowing that Rhythm Multi is equipped with cutting-edge safety measures and built to endure. From the high vapor permeable cover to the modularized design, this system maximizes safety, ease of use, and longevity.
Cutting-Edge Safety Measures:
High vapor permeable cover promotes breathability and contributes to the prevention of skin breakdown.
Modularized design allows for easy maintenance and replacement of individual components, making the system highly durable and cost-effective.
Key Features:
High Vapor Permeable Cover, Visual and Audio Alarm, Keypad Lock-out, SWL 600 pounds, Quick CPR Deflation
The high vapor permeable and quilted nylon cover promotes breathability, reducing the risk of moisture-related skin issues and ensuring a comfortable sleep environment.
The visual and audio alarm system alerts both patients and caregivers in the event of low pressure or power failure, with an alarm mute function for undisturbed rest.
The keypad lock-out function prevents accidental changes to settings, ensuring the system operates consistently.
With a Safe Working Load (SWL) of 600lb, Rhythm Multi accommodates patients of varying weights, providing reliable support to all.
The quick CPR deflation feature allows for rapid deflation of the mattress within 20 seconds, facilitating emergency procedures if required.
A medium to high-risk system for patients who are at risk of developing pressure ulcers according to your sound clinical judgment. Rhythm Multi can also be used for patients who have existing stage1,2,3 and 4 pressure ulcers, in conjunction with the policy on pressure area management.
Product Brochure - Click Here 
3-1 alternating pressure and static

Low air loss therapy
Pulsation therapy
Happy Heel – dial softness control at the foot section
Auto Firm provides an immediate firm surface
High vapor permeable and quilted nylon cover
2" convoluted foam base
Integrated glide sheet to base cover for easy transferring
Visual and audio alarm for low pressure and power failure with alarm mute function
Keypad lock-out function
10 Digital comfort setting
Modularized design for air mattress
The integrated power cable retainer
SWL 600lb
Quick CPR deflation within 20 seconds
Specifications
Standard Size: (L)80"x (W)36"x (H)10"
Bariatric Size: 42, 48-inch width
Weight: 28.6 lbs
Weight Capacity: 600, 800, 1000 lbs
Cell Material: Black Nylon with PU coating
Cell Number: 18 cells Cover Material: Blue Nylon with PU coating finish
Base Material: Black Polyester with PVC coating
CPR Quick Release System Cable Management System on bottom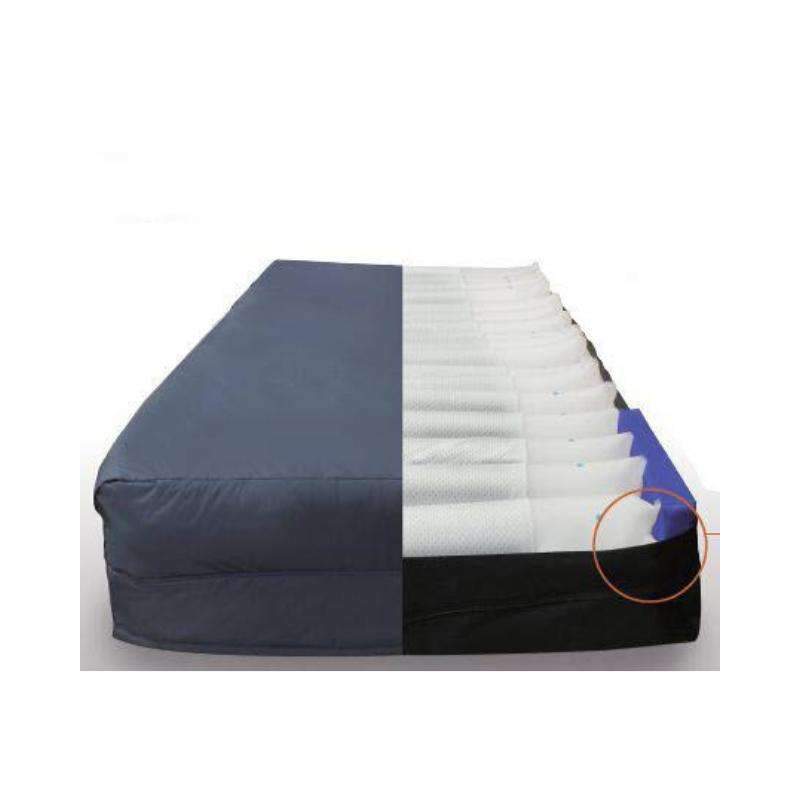 Leading USA Supplier
- Free fast shipping
- USA based support
- One stop mattress stop
Have questions?
Call us now at (888) 828-6017
Free Shipping

We offer free shipping on all products

Hassle-Free Exchanges

If you are not 100% satisfied with our products you are able to return or exchange them.

Support Included

We back up our products with a full warranty. The quality of our products are second to none.