Bed Sore and Pressure Sore Relief and Low Pressure Mattress with Auto Sensing and Patient Remote - 36" Width / 350 Pound Limit
WCM-ASU
Regular price
$3,997.00
Sale price
$2,695.00
Unit price
per
Sale
Sold out
Testimonials

"Great company to work with. They really do care and stand by their products."

"Simple and easy to order. Great deal on top quality mattress"

"I have had about 3 mattresses before that did not help This is the last one I will need. It is very effective."

"I appreciate the super fast shipping and easy set up video"

"Called and asked representative questions. They recommended the perfect product."

"We purchase all our mattresses from Wound Care Mattress and are very happy with the products and service."

"The auto sensing feature makes theis product second to none in terms of quality."

"Had a fantastic experience with this company and my mom has had better sleep and less sores than she has had in years."

"I do not normally write reviews but let just say the service and quality are worth commenting on. Glad I spend the extra money to get something of top quality."
Share
Product Brochure - Download  

(Mattress Only - Bed not included)
Universal Therapy System Alternating Pressure Mattress: The Ultimate Solution for Pressure Ulcers
Advanced Pressure Relief for Effective Healing
State-of-the-art alternating pressure technology: The Universal Therapy System (UTS) Alternating Pressure Mattress utilizes advanced alternating pressure and continuous low pressure to relieve pressure points and promote healing. This innovative technology helps in the treatment and prevention of pressure ulcers up to Stage 4.

Automatic pressure adjustment: Equipped with weight-sensing technology, the mattress adjusts pressure distribution automatically to prevent tissue breakdown. This ensures optimal pressure reduction in sensitive areas, providing superior pressure relief and patient comfort.

Zippered case and easy maintenance: The alternating pressure cells and weight sensor are enclosed in a zippered case, facilitating hassle-free maintenance. This design allows for easy cleaning and ensures the longevity of the mattress.
Convenient Features for Patient Safety and Control
Space-saving design: The slim-line air pump is integrated within the mattress, saving valuable floor space. This feature is particularly beneficial for medical facilities with limited room availability.

CPR Quick Release system: In emergency situations, the mattress can be rapidly deflated using the CPR Quick Release system. This enables quick response times and assessment during critical moments.

Simple hand remote control: Patients have complete control over the pressure settings with the user-friendly hand remote. This empowers patients to adjust the mattress to their personal comfort and needs, enhancing their overall experience.
Comfort and Versatility for Patient Satisfaction
Enhanced mobility and attachment: The mattress is equipped with handles for easy portability and hooks for secure attachment to a bed frame. This provides flexibility and ensures stability during use.

Water-resistant and skin-protective cover: The removable nylon cover features a polyurethane coating, making it water-resistant and moisture vapor permeable. This protective layer safeguards the skin and promotes hygiene, ideal for long-term use.

Adjustable foam layer: For maximum patient comfort, a layer of soft, supportive foam can be placed above or below the alternating pressure cells. This customizable feature allows patients to achieve their desired level of comfort.
Trust the Universal Therapy System Alternating Pressure Mattress to provide superior pressure relief and promote healing for patients with pressure ulcers up to Stage 4.
Universal Therapy System is a low to high-risk system for patients who are at risk of developing pressure ulcers according to your sound clinical judgment. UTS can also be used for patients who have existing stage 1, 2, 3, and 4 pressure ulcers, in conjunction with your hospital's policy on pressure area management. The UTS has an integrated pump that is automatically weight sensing
Alternating pressure and continuous minimized pressure therapy modes to prevent tissue breakdown and encourage healing
Foam in air cell design provides safe and sound protection during a power outage
Removable foam layer that can be placed under the top cover for extra comfort or stored underneath the air cells
Hand pendant for patient control of the mattress. Ideal for patients living alone or with limited mobility.
The UTS replacement mattress can accommodate patient weights up to 350 lbs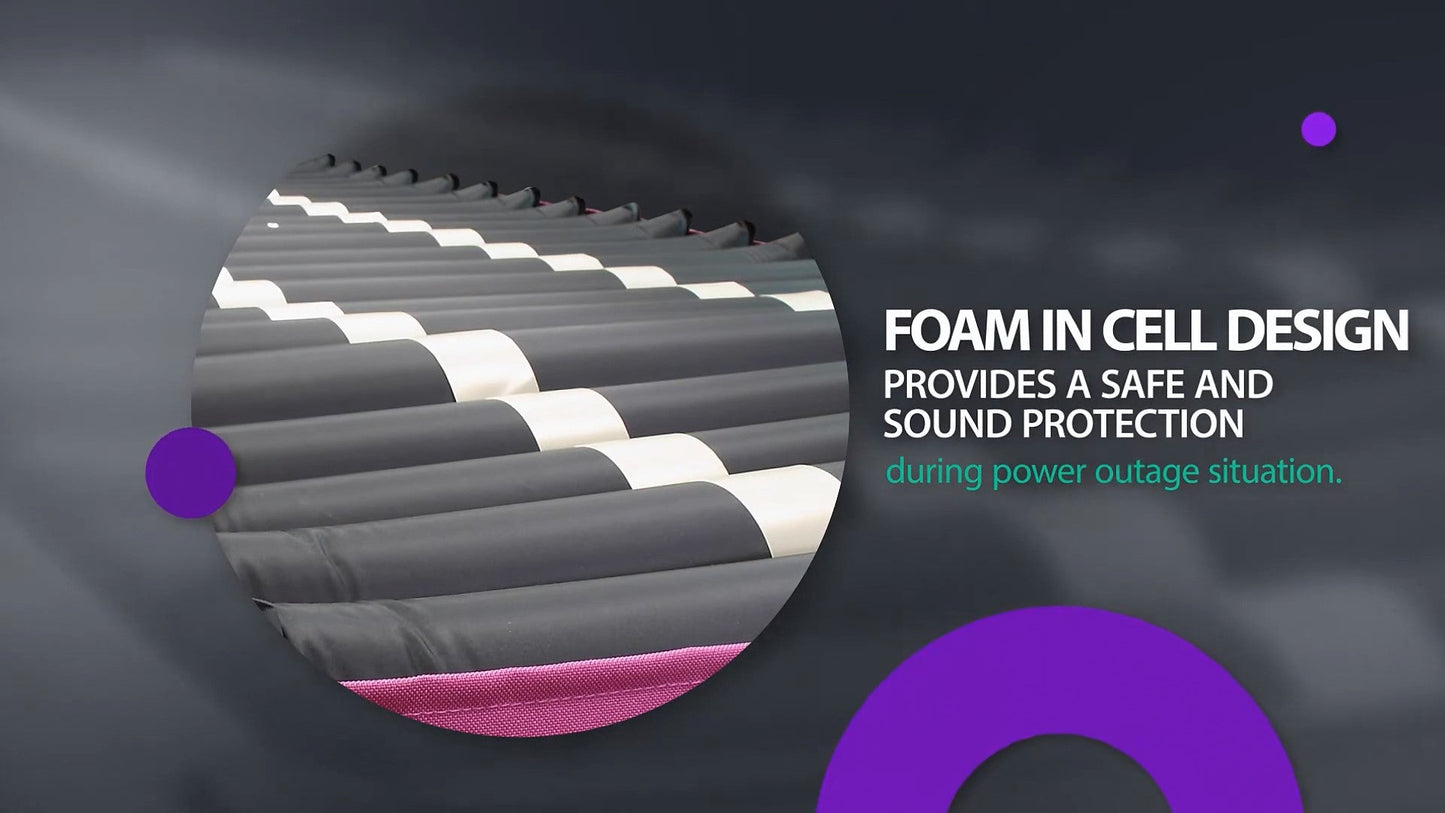 Leading USA Supplier
- Free fast shipping
- USA based support
- One stop mattress stop
Have questions?
Call us now at (888) 828-6017
Free Shipping

We offer free shipping on all products

Hassle-Free Exchanges

If you are not 100% satisfied with our products you are able to return or exchange them.

Support Included

We back up our products with a full warranty. The quality of our products are second to none.