ULTIMATE ALL IN ONE High/Low Electric Hospital Bed - Adjustable Height from 3.6" to 25" | Widths of 36-42" | Weight Capacity up to 600 lbs
WCM-ACBED
Regular price
$5,500.00
Sale price
$4,100.00
Unit price
per
Sale
Sold out
Testimonials

"Great company to work with. They really do care and stand by their products."

"Simple and easy to order. Great deal on top quality mattress"

"I have had about 3 mattresses before that did not help This is the last one I will need. It is very effective."

"I appreciate the super fast shipping and easy set up video"

"Called and asked representative questions. They recommended the perfect product."

"We purchase all our mattresses from Wound Care Mattress and are very happy with the products and service."

"The auto sensing feature makes theis product second to none in terms of quality."

"Had a fantastic experience with this company and my mom has had better sleep and less sores than she has had in years."

"I do not normally write reviews but let just say the service and quality are worth commenting on. Glad I spend the extra money to get something of top quality."
Share
Introducing the ULTIMATE Low Hospital Bed - The Best Solution for Safety, Comfort, and Versatility!

Are you tired of having to choose between beds that expand in width and beds that lower to the ground?  With the Ultimate Low Hospital Bed, you no longer have to compromise. Our innovative bed does it all, increasing the potential for use and ensuring every patient is safe and comfortable.

Here are some remarkable features of the Ultimate Low Hospital Bed:

Deck Height: This bed offers exceptional flexibility with a low position deck height of just 3.6 inches, providing easy access for patients. In the high position, the deck height reaches 25 inches, allowing caregivers to work comfortably while attending to patients.

Sleeping Surface: The Ultimate Low Hospital Bed provides a spacious sleeping surface to accommodate different patient needs. Choose from sizes of 35", 39", or 42" in width and 80" or 84" in length (optional), offering customized comfort for a variety of patients.

Maximum Safe Working Load: With a robust weight capacity of 600 lbs, our bed ensures the safety and security of patients, even those with higher weight requirements.

Optional Accessories: Tailor the bed to meet specific patient and facility needs with our wide range of optional accessories. Enhance patient care and convenience with accessories like the NightLight, Scale, Trapeze, 2 or 4 rails, Battery Backup, Safety (falls) Mat, 4" Bed Extender, and Staff Controls.

Now, let's explore how the Ultimate Low Hospital Bed caters to specific care requirements:

Falls Risk: Our bed is designed to minimize falls risks. With its floor level height and the option of a safety mat, caregivers can effectively manage high-risk resident falls. Additionally, an advanced falls alarm system provides an extra layer of safety.

Bariatric Dignity: We believe in equal access to quality care. The Ultimate Low Hospital Bed ensures that bariatric residents receive the same equipment used throughout your facility, promoting dignity and inclusivity.

Custodial Care: Managing the needs of custodial residents becomes more manageable with the Ultimate Low Hospital Bed. Its expandable width and increased height of up to 30 inches provide enhanced comfort and convenience, catering to the unique requirements of custodial care.

Short-Term Rehab: Our bed is equipped with advanced positioning features, including a Cardiac Chair, Trendelenburg, and Reverse Trendelenburg positions. These features, coupled with the optional scale, allow caregivers to effectively manage higher acuity residents during short-term rehab.

The Ultimate Low Hospital Bed combines safety, comfort, and versatility to revolutionize patient care. Upgrade your facility with our innovative bed and experience the difference in patient outcomes. Contact us today to learn more about how the AllCare Low Hospital Bed can benefit your healthcare setting.
Product Brochure  >> Download
Warranty
Welds- Lifetime 
Frame 15 years
Drive Systems 5 Years 
Wood products, casters, handsets, misc 1 year.


​BED RAIL OPTIONS

 

Quarter Side Rails (Pair)

(Great rails for repositioning in bed as well as easy transferring and safe assisting to stand position)

Pivoting Assist Bars

(Great rails for easy transferring and safe assisting to stand position)


Shipping Options

Standard Delivery (FREE) -  Standard delivery is FREE to your home or facility.

Delivery and Setup (+ $350) This delivery option will add 5-7 days to your delivery time - Your bed will be delivered and brought into the room of your choice and assembled. All included in Delivery and Setup:
In-home delivery

Assembly of bed in room of your choice
In-service instruction on proper use, maintenance and warranties
Removal of all boxes and packaging material
Optional Service Plan Costs
 1 Year - $350 | 2 Year $450 | 3 Year $550   (Has to be purchased at time of sale)
Service includes two repair visits per year (If additional visits are requested that will be charged separately)
• Med-Mizer (WoundcareMattress Vendor) will determine if onsite technical service is needed. A consultation call to try and diagnose the issue is required before a technician will be sent to the location.
• Technical Support hours are 8:00 AM to 5:00 PM EST.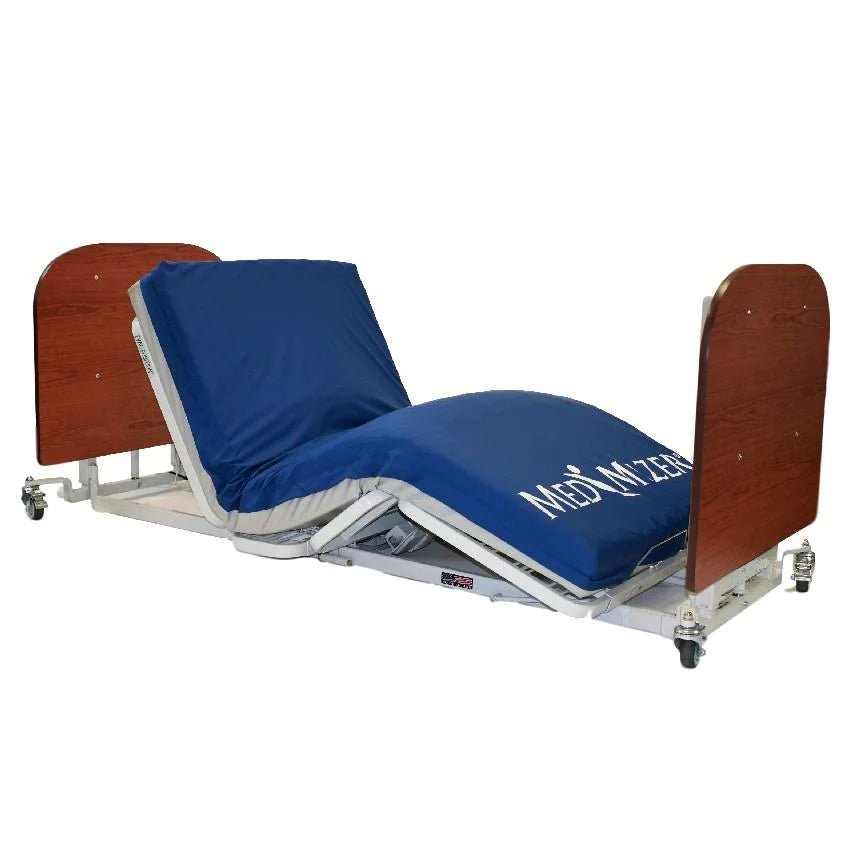 Leading USA Supplier
- Free fast shipping
- USA based support
- One stop mattress stop
Have questions?
Call us now at (888) 828-6017
Free Shipping

We offer free shipping on all products

Hassle-Free Exchanges

If you are not 100% satisfied with our products you are able to return or exchange them.

Support Included

We back up our products with a full warranty. The quality of our products are second to none.