TEST Product
Regular price
$6,020.00
Sale price
$14,475.00
Unit price
per
Sale
Sold out
Testimonials

"Great company to work with. They really do care and stand by their products."

"Simple and easy to order. Great deal on top quality mattress"

"I have had about 3 mattresses before that did not help This is the last one I will need. It is very effective."

"I appreciate the super fast shipping and easy set up video"

"Called and asked representative questions. They recommended the perfect product."

"We purchase all our mattresses from Wound Care Mattress and are very happy with the products and service."

"The auto sensing feature makes theis product second to none in terms of quality."

"Had a fantastic experience with this company and my mom has had better sleep and less sores than she has had in years."

"I do not normally write reviews but let just say the service and quality are worth commenting on. Glad I spend the extra money to get something of top quality."
Share


Get a Superior, Professional Wall Hugging, Hi-Low Adjustable Hospital Bed from Wound Care Mattress.
We are excited to introduce our motorized high/low, wall-hugging hospital bed.  This bed is designed to maximize space and provide comfort and support to all patients.  Our hospital bed is motorized and comes with an easy-to-use remote control.  Easily expands from 36 to 42 inches and supports up to 500 pounds. This bed comes with a satisfaction guarantee and a full warranty.  Get a high-quality hospital bed at a fantastically affordable price. 
The term "wall-hugging" typically refers to a high-low hospital bed that has the ability to move close to the wall. This type of bed is designed to maximize usable space in a patient room. It can be adjusted to several heights, allowing for increased safety and comfort for the patient.
Additionally, this type of bed can provide more space for medical equipment, family members, and caregivers.  The wall-hugging feature on a high-low hospital bed makes it easier to move it close to the wall without worrying about the bed hitting the wall or becoming too close. This is especially useful in smaller patient rooms that have limited space.
As the bed can be easily adjusted, it also allows for easier transfers in and out of bed, as well as improved access to medical equipment and other items.  The adjustable height of a wall-hugging high-low hospital bed can also help reduce the risk of falls, as the bed can be lowered to the floor level to make it easier for the patient to get in and out of the bed.
Additionally, the adjustable height may also reduce the risk of pressure sores, as it allows for easier repositioning of the patient.  Overall, a wall-hugging high-low hospital bed can offer a number of benefits to both patients and caregivers. Not only does it provide increased safety and comfort for the patient, but it can also help maximize available space in the patient's room.
This product is in stock and available for free shipping. 
Enhances Access and Mobility
When patients and caregivers are comfortable and in control, quality of life and independence thrives.
"This is an AMAZING bed! The bed frame retracts when the head of the bed is raised. Mom can easily reach items on her nightstand when she sits up and there is more room at the foot of the bed to move her wheelchair around. Thank you Wound Care Mattress!
—Sarah R. 
Wall-Hugging Hi-Low Hospital Bed

Retracting Bed Frame: Reduces potential falls and improves patient access with wall-hugging retractable technology.

Falls Risk Prevention: Low-level height to help facilities or caregivers manage high-risk fall patients.

Auto Contour: Reduces patient migration, alleviates skin shearing, and improves staff productivity.
Soft Non-Marking Rubber Bumpers: Protects the wall from scuffs and damage.
Backlit Remote Control: Backlit remote is great for use at night and also has easy-to-press buttons for those with arthritic hands.
Optional Battery Backup: The battery kicks in when there is a loss of power. The bed will continue to have full functions.
Optional Under Bed Light: Ambient light below the bed can be turned on by the remote control to provide light for either caregiving or nighttime trips to the bathroom.
Optional Attendant Control Panel: Allows the caregiver to adjust the bed as well as lockout features on the remote control.
Under Bed Clearance: Full clear span underneath for unobstructed access with lifts or assisting devices
Box Tubular Steel: Construction is made of lightweight tubular steel to maximize strength
Easy Storage: The bed can be vertically transported and stored.
Weight Capacity: 500 Lbs.
Made in the USA: Proudly made in the USA. Built to last not only for the home but for facilities as well.
Industry Leading Warranty: Welds Lifetime, Frame 15 Years, Motors 5 Years
​BED RAIL OPTIONS

 

Quarter Side Rails (Pair)

(Great rails for repositioning in bed as well as easy transferring and safe assisting to stand position)

Pivoting Assist Bars

(Great rails for easy transferring and safe assisting to stand position)
HEADBOARD OPTIONS
SPECIFICATIONS
Height Range: 9" to 25" (Not Including Mattress)
Bed Deck: Grid Bed Deck
Bed Size: 35", 39, or 42"
Trendelenburg: NA
Maximum Back Angle: 70 Degrees
Weight Capacity: 500 Lbs.
Warranty:
Welds - Lifetime
Frame - 15 Years
Drive Systems - 5 Years wood products, casters, handsets, misc 1 year. 
Shipping Options
Standard Delivery (FREE) -  Standard delivery is FREE to your home or facility.
Easy Setup - Take a look at our instructional page - Click Here
Home Delivery and Setup (+ $359) This delivery option will add 5-7 days to your delivery time - Your bed will be delivered and brought into the room of your choice and assembled. All included in Delivery and Setup: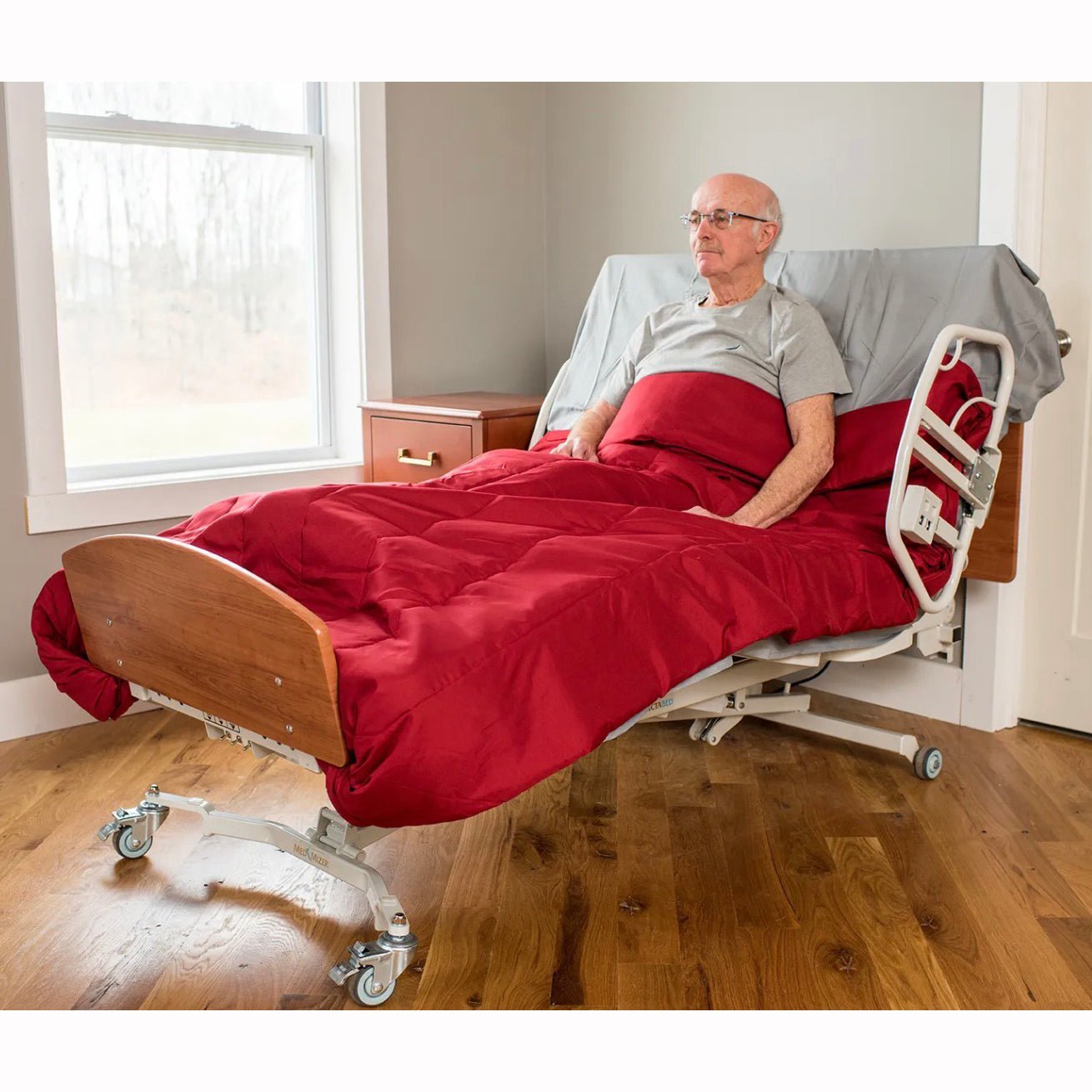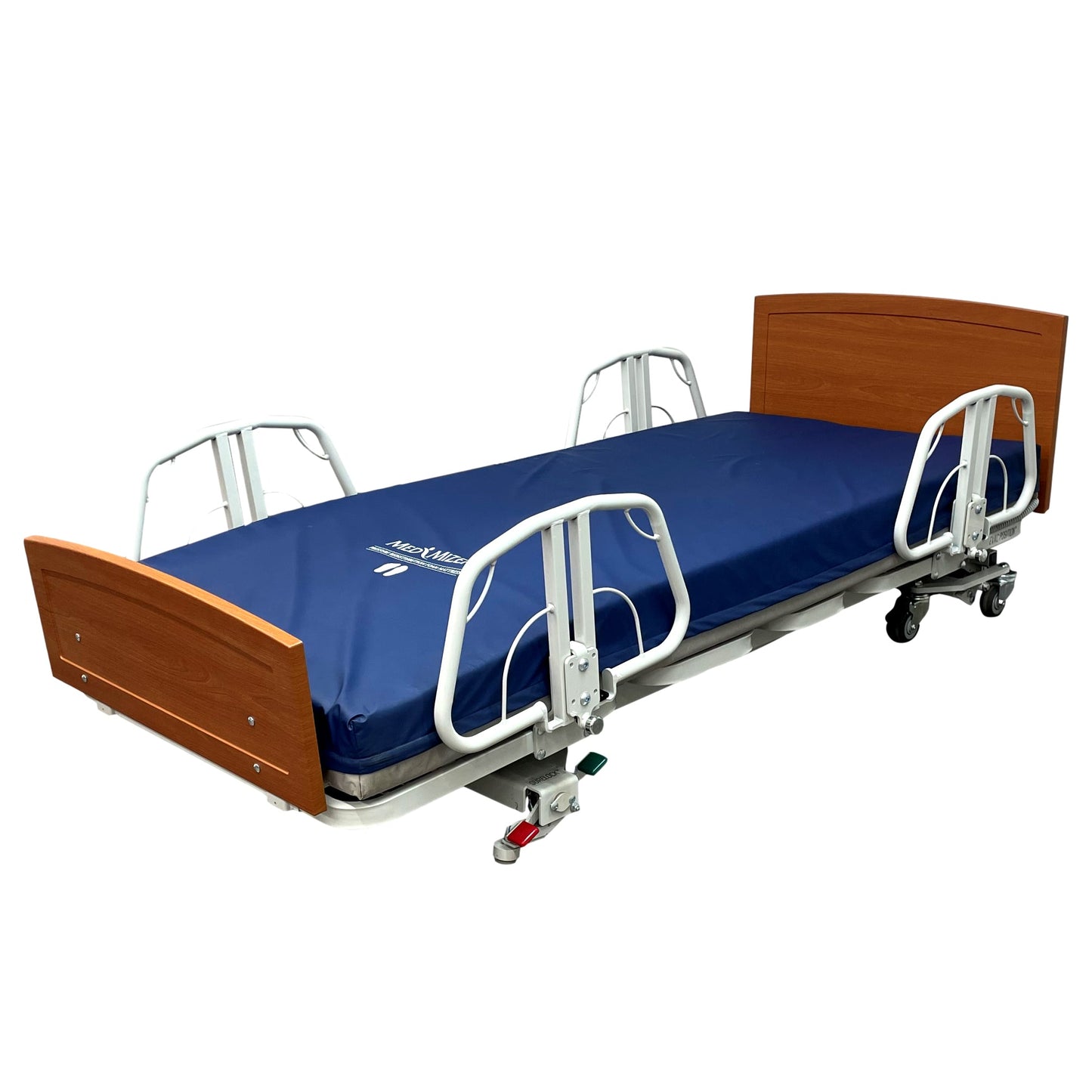 Leading USA Mattress Supplier
- Free fast shipping
- USA based advice and support
- One stop shopping
- Have questions?
Call us now at (888) 828-6017
Free Shipping

We provide free shipping on all orders. The shipping is on us.

Hassle-Free Exchanges

If you are not 100% satisfied with our products you are able to return or exchange them.

Support Included

We back up our products with a full two year warranty. The quality of our products are second to none.