Low Air Flow Alternating Pressure Relief Bedsore Mattress - 36 Inch Width / 350 Pound Limit
WCM-1066
Regular price
$679.00
Sale price
$599.00
Unit price
per
Sale
Sold out
Testimonials

"Great company to work with. They really do care and stand by their products."

"Simple and easy to order. Great deal on top quality mattress"

"I have had about 3 mattresses before that did not help This is the last one I will need. It is very effective."

"I appreciate the super fast shipping and easy set up video"

"Called and asked representative questions. They recommended the perfect product."

"We purchase all our mattresses from Wound Care Mattress and are very happy with the products and service."

"The auto sensing feature makes theis product second to none in terms of quality."

"Had a fantastic experience with this company and my mom has had better sleep and less sores than she has had in years."

"I do not normally write reviews but let just say the service and quality are worth commenting on. Glad I spend the extra money to get something of top quality."
Share
(Mattress Only - Bed not included)
Introducing our High-Quality Alternating Pressure Mattresses: Experience Unmatched Comfort and Relief
Alleviate Pressure Sores and Promote Recovery
Expertly designed to alleviate pressure points and prevent bed sores

16 air chambers alternately inflate and deflate, promoting circulation and redistributing weight

Customizable pressure settings for personalized comfort and support

Ultra-quiet compressor ensures a peaceful and restful sleep

Removable waterproof cover for easy cleaning and maintenance
A Solution for Enhanced Comfort and Well-being
Ideal for those who are confined to a bed for an extended period of time

Provides constant relief and minimizes the need for manual repositioning

Supports individuals up to 350 pounds with its 8-inch design for optimal ulcer relief

Breathable cover allows heat to dissipate, ensuring optimal comfort

Emergency CPR strap for quick deflation during emergencies
Invest in Your Well-being: Upgrade to our Alternating Pressure Mattress
Specifically recommended for up to Grade 4 ulcers

Say goodbye to painful pressure points and hello to enhanced comfort and improved recovery

Perfect for individuals with limited mobility or who are bedridden

Rest easy knowing that our mattress is designed to prevent sores caused by prolonged bed rest

Experience the benefits of enhanced comfort and improved well-being for yourself or your loved ones
Features:
Alleviates Bed Sores - Alleviates pressure points while helping ulcers
16 Air Chambers: For alternating inflation and deflation to prevent bed sores
Ultra Quiet Pump: Provides restful sleep & hook to bed
Simple Touch Controls: Customize air flow, firmness, and positioning
Supports up to 350 pounds
8-inch design ensures optimal ulcer relief
Waterproof Vinyl Cover: Breathable cover allows heat to dissipate for optimal comfort
Emergency CPR Strap quickly deflates mattress for patient resuscitation
Comfortable Pillow: The head end of the mattress remains static to prevent head movement
Uses:
Intended for use by those confined to a bed for an extended period of time
Prevents sores that are caused by prolonged bed rest
Bed Sore Prevention Alternating Pressure Mattress - 8 inches
Providing Comfort, Support, and Healing
Alleviate Painful Pressure and Prevent Bedsores
Designed for individuals with limited mobility or those who are bedridden

Alternates inflation and deflation of cells to constantly change pressure points

Promotes circulation and reduces the risk of developing bedsores and ulcers
Customizable Pressure Settings for Personal Comfort
The mattress features 16 alternating air chambers

Continually redistributes weight to relieve pressure on specific areas

Variable pressure settings allow users to adjust air pressure for personalized comfort and support

Static or seated setting options available to cater to individual needs
Quiet, Restful Atmosphere for Optimal Healing
Includes an ultra-quiet compressor pump for easy setup

Ensures a peaceful environment for a restful sleep and healing experience

The digital compressor pump operates smoothly and silently, minimizing disruptions
Durable and Easy to Maintain
The mattress is covered with a removable, waterproof vinyl cover

Constructed with latex-free materials for enhanced durability

Easy to clean and sanitize, ensuring a hygienic sleeping surface
Specifications
Size: 8" Twin XL mattress

Weight capacity: Supports up to 350 pounds

Engineered for even support and breathable comfort


Operation Instructions
Position the mattress on the bed and secure to the bed using the straps
Connect the mattress feed pipes to the compressor (pump) connector using the flexible hose
Secure the compressor and plug into an outlet
Turn on the mattress and begin use. Make sure the mattress has been fully inflated before positioning the patient on top of it
Care Instructions
For best results, wipe down with a damp cloth coated with a detergent product solution or disinfectant
Do not use corrosive cleaning products such as industrial degreasers or acetic solvents
Includes
Alternating Pressure Mattress
Digital Compressor Pump
Connecting Air Hose
Replacement Air Chamber
Patching Kit
One Year Guarantee on Pump
60 Day Guarantee on Pad
Specifications
Product Type: Pressure Mattress
Length: 80"
Width: 35"
Height: 8"
Pump: 10.25" x 3.5" x 4.75"
Warning: CA Prop 65 WARNING
Power
Power cord attached directly to pump
Electrical Power Supply: 110-120 Volts
Product Documents
8" Alternating Pressure Mattress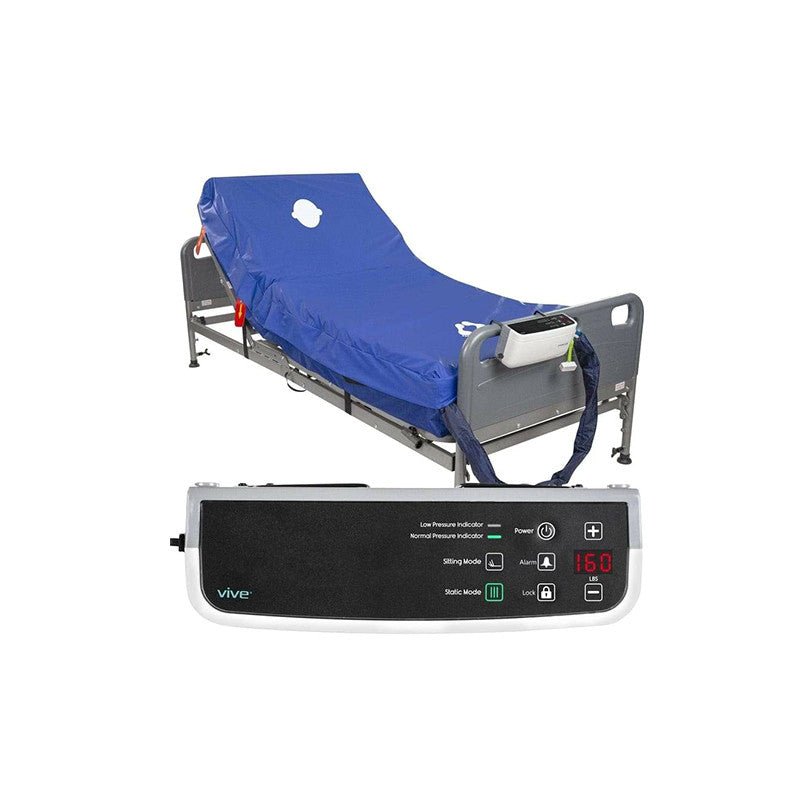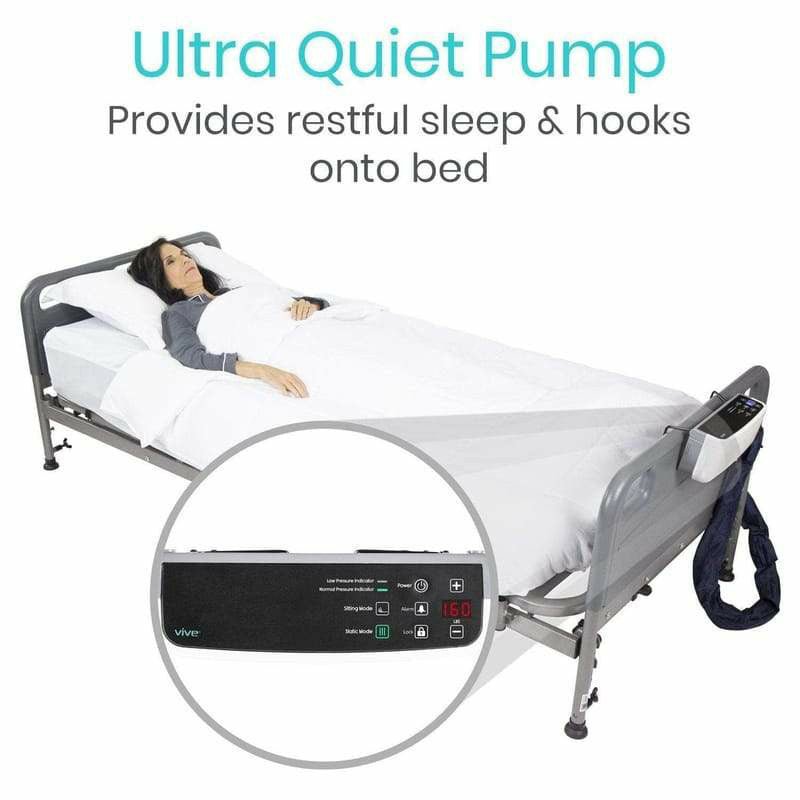 Leading USA Supplier
- Free fast shipping
- USA based support
- One stop mattress stop
Have questions?
Call us now at (888) 828-6017
Free Shipping

We offer free shipping on all products

Hassle-Free Exchanges

If you are not 100% satisfied with our products you are able to return or exchange them.

Support Included

We back up our products with a full warranty. The quality of our products are second to none.