Low Air Loss and Alternating Pressure Mattress with 5 Modes - 36" Width / 450 Pound Limit
WCM-AUTO-MAT
Regular price
$1,600.00
Sale price
$1,425.00
Unit price
per
Sale
Sold out
Testimonials

"Great company to work with. They really do care and stand by their products."

"Simple and easy to order. Great deal on top quality mattress"

"I have had about 3 mattresses before that did not help This is the last one I will need. It is very effective."

"I appreciate the super fast shipping and easy set up video"

"Called and asked representative questions. They recommended the perfect product."

"We purchase all our mattresses from Wound Care Mattress and are very happy with the products and service."

"The auto sensing feature makes theis product second to none in terms of quality."

"Had a fantastic experience with this company and my mom has had better sleep and less sores than she has had in years."

"I do not normally write reviews but let just say the service and quality are worth commenting on. Glad I spend the extra money to get something of top quality."
Share
(Bed not included)
Low Air Loss and Alternating Pressure Mattress
Are you on the lookout for an effective solution to prevent and manage pressure ulcers? Look no further! Our Automatic Adjustable Air Mattress is here to provide you with the ultimate comfort and support while effectively addressing pressure injuries for individuals with medium to high risk. Designed with your needs in mind, this mattress offers a range of advanced features and functionalities.
Experience Advanced Low Air Loss Therapy
With five unique modes to choose from, our Automatic Adjustable Air Mattress ensures that your comfort is never compromised. Whether you prefer the unparalleled support of the Max Firm mode or the gentle relief provided by the Alternating mode, our mattress guarantees a personalized experience like no other. Say goodbye to discomfort and hello to blissful sleep!
Key Features:
Automatic Adjustment for Simple Set Up: Our mattress takes the hassle out of finding the perfect setting. With its automated adjustment feature, you can effortlessly customize the mattress to your desired comfort level, ensuring an optimal sleeping experience.
Cell-on-Cell Bladder: Worried about power failures? Our innovative design incorporates bottom cells that act as basic pressure support, preventing the risk of bottoming out and ensuring your safety even in precarious situations.
Nylon/PU Cover: Our mattress boasts a vapor permeable and water-resistant Nylon/PU cover. Not only does it prioritize breathability, but it also offers a basic level of flame retardancy, ensuring a safe and secure environment for sleep.
CPR Valve: Emergencies can happen when we least expect them. That's why our mattress is equipped with a CPR valve, allowing for quick deflation during medical emergencies, ensuring timely assistance and potentially saving lives.
Tuning: We understand the importance of individualized care. Our mattress enables fine-tuning of the pressure, allowing you to optimize comfort and support levels according to your specific needs.
Quick Connector: Need to transport your mattress? No worries! With our quick connector, you can instantly switch to a static air mattress, making transportation a breeze while maintaining the utmost comfort.
Perfect for Medical Facilities and Home Use
Whether you are managing a medical facility or require specialized care at home, our Automatic Adjustable Air Mattress is the perfect solution for you. Its versatility, reliability, and customizable features make it an ideal choice for individuals with medium to high-risk pressure injuries. Experience the difference today!
5 Modes:
Max Firm
Alternating
Seat Inflation w/ Alternating
Seat Inflation w/ CLP
Continuous Low Pressure (CLP) 
Features
Automatic Adjustment for Simple Set Up
Cell-on-Cell Bladder: The bottom cells act as basic pressure support to avoid bottoming out in case of power failure
Nylon/PU Cover: Vapor permeable and water resistant with basic flame retardant level
CPR Valve: Quickly deflate the mattress during emergencies
Tuning: To fine-tune the pressure & optimize patient comfort
Quick Connector: Once with cap on, instantly switch to a static air mattress for transportation need
Five Modes to Fulfill Individual Needs:

Max Firm
Alternating
Seat Inflation w/ Alternating
Seat Inflation w/ CLP
Continuous Low Pressure (CLP)

Alarm System increases patient safety:

Low Pressure
Power Failure
Tech Support
Specification
Size
Pump: 11" x 7" x 5" 
Mattress 1: 80"L x 36"W x 8"H
Cell Height:  8" 
Maximum Patient Weight: 450 lbs
Mattress Materials:

Medical-grade PVC
Cover Material: Silver+ Nylon/PU
Cell Material: Nylon / PU
More Details
Pump:

Supply Voltage: AC 220 - 240V, 50Hz; AC 100 - 120V, 60Hz
Operating Cycle: 9.6 mins

Mattress:

Mattress type: 8" Replacement
Alternating: 1 - in - 2
Flame Retardant: EN 597-1 & EN 597-2

Weight:

Pump: 5 lbs.
Mattress: 15 lbs.
Maximum Patient Weight: 450 lbs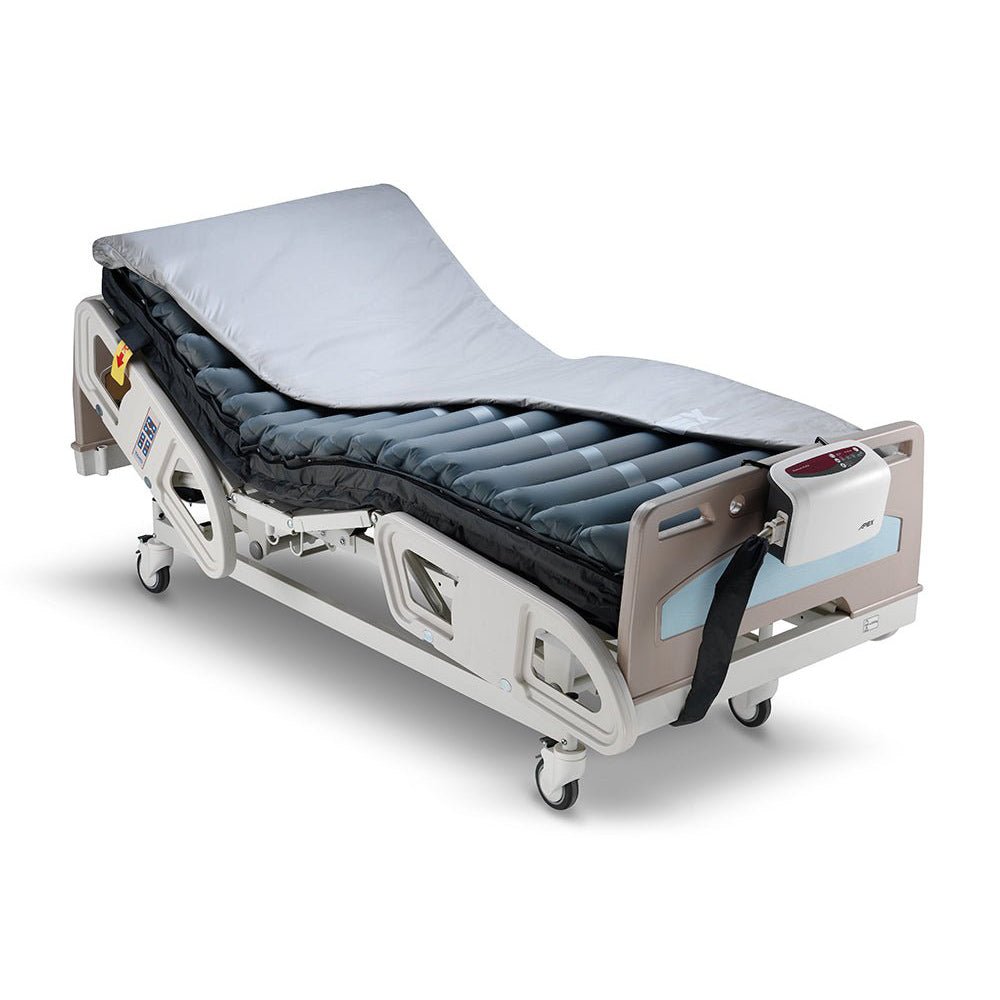 Leading USA Supplier
- Free fast shipping
- USA based support
- One stop mattress stop
Have questions?
Call us now at (888) 828-6017
Free Shipping

We offer free shipping on all products

Hassle-Free Exchanges

If you are not 100% satisfied with our products you are able to return or exchange them.

Support Included

We back up our products with a full warranty. The quality of our products are second to none.